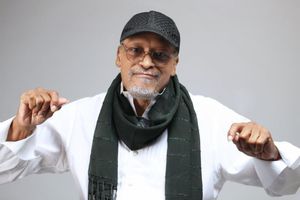 BELLE MORGAN February 20, 2018
James Mtume needs no introduction to students of music. Having worked with legends and countless industry heavyweights, his musical roots are deep. With an impressive resume that spans decades he boasts collaborations with Miles Davis, Duke Ellington, Dizzy Gillespie, Phyllis Hyman, Roberta Flack and many, many others. While he may be best known for his R&B hits with the Mtume Band he insists that, at his core, he is a jazz musician. The singer, songwriter, producer, musician, composer, radio personality and activist wove seamlessly from anecdote to anecdote during our colorful conversation. At 71 years young, he is hip, has his ear to the streets and is still making music. It was my absolute honor and privilege to speak with and learn from this musical treasure.
Q. Tell me about your love for jazz.
A. I always say that jazz is not my background, it's my frontground. I came up in a very musical family. Since I was a child, I grew up listening to Miles Davis, Thelonius Monk, Yusef Lateef, John Coltrane. Obviously, that was also a magical time with the emergence of Motown. One ear was always in jazz, the other ear was in R&B and funk.
Q. When did you realize the significance of that upbringing?
A . I would be lying if I said I realized the significance of my upbringing at 9 or 10. One thing I did know was that I grew up around people that were special. Can you imagine? As a child, I'm listening to Coltrane talk to my father? I was always fascinated by the intellect of jazz musicians. In my career, I started out as a jazz musician. The highlight of my career and fortune was when I stood next to and played with Miles Davis. I stood next to him for five years. People ask me where I studied music and I say Miles Davis University.
Q. Any words of wisdom from Miles? Anything you still hold onto?
A. One thing he always told me was that when you cross a musical bridge, burn it. So you never even have the opportunity to go backwards. When you burn the bridge, you don't have a rearview mirror. All you can do is go forward. Keep expanding the music. Don't just keep repeating what you already know. And Miles changed the entire direction of music like, 3 or 4 times so I thought that was profound. The other thing he would always say was that what you don't play, is more important than what you do play. Give space in your melody. You don't have to use a lot of notes. Use the notes that mean something. Most people play in paragraphs. That's too many notes. You need to learn to play in quotations. Miles was brilliant at playing economically. He played the essential notes. I always carried those lessons with me.
Q. Are you self taught? 
A. Yes.
Q. Can you talk about that?
A. At around 9 or 10, I started tinkering. There was always a piano in the house. I found that I could hear records and go to the piano and, many times, figure out what the chords were. People call that having a natural ear. I don't recommend everybody being self taught, I was just very fortunate. Being that way I was able to go from being a musician to a songwriter to a producer and then, ultimately, to score television & film. That's a rare road to travel but I always felt that the only music that I wanted to play was my own. I didn't want to play other peoples music.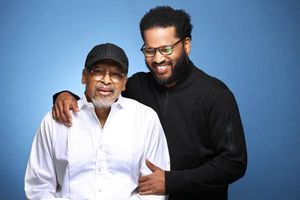 Q. You've worked with everybody. Is there anybody left out there that you'd really like to work with?
A. Kendrick Lamar (laughs).
Q. Really?
A. Yeah, really (laughs). I said I was old, I didn't say I was ancient. He knocks me out. The honor would be mine.
Q. What's next for you?
A. Back in the studio with Tawatha Agee. She was the lead singer on Juicy Fruit and You, Me & He. She actually played with the Roots last night so I'm a little hoarse from screaming (laughs). She tore the joint up. Her project should be ready this summer. We've also embarked on a tour that started February 9th.
Q. Will you be coming to Atlanta?
A. Hopefully. If we do, I'll be there (laughs). I actually just left Atlanta. We just finished taping interviews for Unsung. I turned them down for like, 8 years. I finally just said okay. My son, Faulu, said come on let's do it. It took a lot of planning to get that done. We covered a lot of ground. Whew!
Q. Mtume is like, a part of the soundtrack of my childhood. Who came up with the concept of Juicy Fruit?
A. Well, I did. We had just finished recording that album. The album was finished but for some reason I called a session. Everyone had gone home and I looked over and saw this Linn drum machine. I told the engineer to hook it up and let me mess with it. I got going and heard (makes drum sounds for Juicy Fruit intro). So I said, wow, that's kind of interesting. I called the band back, it was like 1 or 2 in the morning. Everybody came back to the studio and we laid it down. Tawatha was on tour in Europe so I called her once, you know, I had the music down. When she had a couple days off, she flew in from London. We laid the vocals in one night and she flew back. We mixed it and that was it for the music part. But here's a little inside story that most people don't know. When I took Juicy Fruit to Epic Records, they didn't want to put it out. They said it was too slow and the lyrics were too risqué. I was like, oh really? They finally agreed to release it but only after 12 midnight for what they called back then, the Quiet Storm (laughs). After one week they were getting so many calls from all these radio stations that they were forced to release it as a single. How about that?
Q. You had a similar story with a Roberta Flack track, right?
A. Oh yeah, that was another one (laughs). We did The Closer I Get and they were having the listening party which back then meant you went to the studio and all the executives were invited. The president of Atlantic Records was there and Roberta had invited me. Well, the president didn't know who I was. I was just some square sitting on the couch, right? We listened to the whole album and he turned to Roberta and said, "I loved everything on this record except The Closer I Get. It's boring and it's repetitious." And I will always thank Roberta Flack. She fought the president of the label to keep that song on the album. He finally relented. The irony is that he said it would never be a single. That shows you how much record people know (laughs).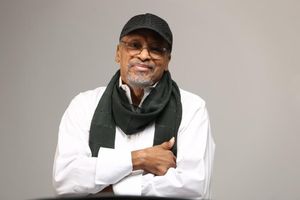 Q. Let's talk about sampling. Was Jay Z the first to sample you?
A. No. He wasn't the first person to sample me. He sampled a song that I'd written in 1976, it was called Inside You. He sampled that record for Reasonable Doubt. It was a song called Coming Of Age.
Q. I'm sure that you were aware of what was happening in the industry as hip hop grew in popularity. When you were first approached by a rapper or a label to sample what was your reaction? Were you with it or did you have to be convinced?
A. That's a good question. I was with it. Back in the day there was a song by Stetsasonic called Talking All That Jazz. Well, that record was about me. Daddy-O heard me doing an interview on the radio where I said there was nothing wrong with sampling. My only thing was, if you're gonna sample my music, then you're gonna have to pay me. Back then a lot of people were being sampled but they weren't getting a check. And I said, nah, that ain't right. So when I was scoring the music for this show, New York Undercover, I don't know if you remember that show or not, but I was with Andre Harrell who was co-executive producer. After a meeting Andre said "Yo, Puffy wants to talk to you." Of course, I already knew Puff. He came in and said "I have this new artist named Biggie and he's outside. He really wants to meet you." I said sure. Biggie came in. We hugged. It was beautiful. Beautiful brother. We talked about sampling Juicy Fruit, worked out our deal and the rest is history. I'm just thankful that our music, through Biggie, was able to be translated to the next generation. As a band we were really fortunate to create music that the next generation could feel and identify with, you know?
Q. How did New York Undercover happen?
A. Well, the Mtume Band recorded an album, Theater Of The Mind, in 1986. We featured a rap group, Jekyll & Hyde, on a track called Deep Freeze. Andre Harrell was a part of Jekyll & Hyde. We were the only R&B band that had ever done that. Obviously, I dug rap. I brought rappers onto our album.
Q. Did you feel like the Jay Z sample did your music justice?
A. I loved it. I came out of jazz. Jazz is always about looking forward and expanding your palette. We always respected the fact that each generation creates its own music. So when hip hop came along, that's the music of your generation. What my generation brought to the game was expanding the concept of funk. One of the things that I do feel bad about is the absence of black bands. When I was coming up we had Parliament, Earth, Wind & Fire, Kool & the Gang, Isley Brothers, all these greats. And now, there are no black bands. It's sad. It's really sad, man.
Q. What do you attribute that to?
A. A lot of it I attribute it to record companies. I've always believed that they wanted to control black music without black people. There are very few young, black R&B singers. I like Justin Timberlake but come on. Whoever controls the image controls the definition. Without the images of black people performing the music, young people don't have a reference point. You always had people like Pat Boone doing R&B but we also had Little Richard. We knew the truth. We had Al Green and Sly Stone. We had James Brown. Right now there's a lot of confusion about what the truth is. There's a lyric in Deep Freeze that speaks to this, "On my radio some other voice I hear. It's the same game, just  a different name. And on your MTV you make it very clear. You want R&B but not from me. It's a deep freeze." That's '86. And that's what were thinking about. Sounds familiar.
Q. You've always been aware. Why did you feel it was important to use a dark skinned woman in the You, Me & He video?
A. When Juicy Fruit came out they weren't doing a lot of black videos. Because the song was so big, we had to. We shot it in one day. The lead in that video was Asian looking and that was cool but right after that video I began to notice that the other videos had light skinned women too. I didn't see no chocolate. And my youngest daughter is chocolate. So one day we were home watching a Prince video, I think, and my daughter said, "I guess I'll never be in a video." That hit me right in the heart. So I demanded a chocolate sister as the lead in our next video. And we did that. I saw what was going on. Dark skinned women were never considered. I had to flip the script.
Q. How can we change the silence in our music about social injustice?
A. Music can only reflect what's going on in society. Society is the thermostat that sets the temperature. Music is the barometer that tells you the temperature. In the 60s we could have a Say It Loud (I'm Black & I'm Proud) because society had this great movement in black power and white kids who were dealing with the anti-war movement. Right now, what's our conversation? I don't give a damn about Kim Kardashian's $40K dress. I don't care about those things but that's where society is. We're now living in a reality show. We got a reality show President. Once society gets serious about having real discussions, trust me, it will be reflected in the music.
Q. Do you feel like your generation did a good job passing the baton onto the next generation?
A. Absolutely not. There was a breakdown in cultural continuity when hip hop came along. Most of the older blacks were talking about "that ain't no music." Remember when Rev. Butts ran over all those CDs with a bulldozer? I'm old enough to remember when white people burned Little Richard and Fats Domino records saying that R&B was infecting their children. The point is that the music became the vehicle for that pain and expression. A lot of us were angry because we were no longer being signed by record companies. Fortunately, the Mtume Band didn't have to deal with that because we all went off to do something else. A lot of black men dropped the ball though. They weren't raising their kids. More often than not, grandparents were doing that because the parents were absent. We started looking at y'all like you weren't ours. And that was the painful thing. Children are a reflection of you. And it's a mirror. Rather than look in the mirror, we tried to break it.
And there it is. Much respect.
For more information on James Mtume, please go to: jamesmtumeonline