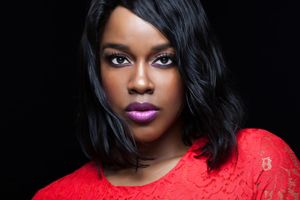 BELLE MORGAN March 19, 2018
She is as driven as she is talented. She is as intelligent as she is beautiful. Meet singer, songwriter, wife, mom, model and businesswoman...Esnavi. The indie soul singer has returned to the music scene with her latest single, The Way, from her forthcoming project and second album, Detour. She recently took the time out to dish with PUSH Radio and two things are clear, Esnavi knows what she wants and she makes no apologies for any movement in that direction. We like that. A lot.
Q. Congrats on the release of The Way. Is this the lead single from Detour?
A. Thank you. I released two singles previously but this is the last and final single leading up to the album release. We're doing a really big push for this record. We've been getting really good feedback too.
Q. Do we have a release date for the album?
A. No, we don't have a release date yet. We're shooting for fall, winter at the latest.
Q. Is there a video coming for The Way?
A. Possibly. We have some things in the works but it's not 100% guaranteed that we're going to. I'll keep you posted though (laughs).
Q. When I was listening to your music I was definitely getting Leela James-esque vibes. Have you ever heard that before? As an artist, do you mind comparisons?
A. No, I've not heard the Leela James comparison before but I am familiar with her as an artist and I think she's a dope vocalist. I don't necessarily mind comparisons especially when it's an artist that I admire or one that I'm aware of and I like their vibe. I feel like comparisons are a good thing (sometimes) because people need something to relate to. If you're a Leela fan and your friend is a Leela fan and I'm coming to town and you say, Esnavi has that Leela James vibe, that now opens him or her up to come check me out. I'm totally cool with that.
Q. You released your first album, Exit E, in 2011 and I'm sure there's been growth and evolution since then. How have you changed and what can your fans expect on this album?
A. I always write from a real place, I like to share real life experiences and my real emotions. With the first album, the sound was smoother. Back then I kinda had this expectation that things would be a lot easier than they have been. I don't know why I thought that when the music industry is one of the most challenging industries in the world (laughs). We had a top 40 record and I was questioning why certain things weren't happening. It caused me to question myself, my purpose and my path. I experienced some great highs and some real lows. The concept behind Detour is how you travel on the highway, you know your exit but when you get there the exit is closed so you have to find another way to get to your destination. That was my life. Detour is much more aggressive and in your face because that's what life was doing me. I've had my faith and my character tested. I'm much more vulnerable and raw on this record than Exit E. I wanted to create an album to reflect those experiences but in a melodic, musical way. The music isn't mean and hard and rough (laughs). I showcase another side of myself and I've evolved as a person and as a songwriter. Exit E was definitely smoother. Listening to both projects you can definitely tell that I was going through some things on Detour. Not all bad things, either. I share some beautiful experiences as well.
Q. Can you tell us about the producers that you worked with?
A. I work with one producer. His name is Michel Kunz. He produced Exit E. Very talented. He's able to flow with the versatility of where I want to go musically and it just works.
Q. Do you have any desire to sign with a major? Do you enjoy the indie artist path?
A. I don't have a desire to sign with a major label but I do have the desire to have a major label budget (laughs). I definitely enjoy the creative control that I have as an independent artist. That's part of the reason that I have remained indie. I have been approached by a major label in the past and, truthfully, I did entertain the idea but having creative control is a priority for me. The thought of someone coming in to tell me what I should sing about, how I should sing, what my image should be... I would not enjoy someone telling me what to do to sell a record. I feel like if you are authentic and singing from a real place, there's a fanbase for you.
Q. If you had an unlimited budget and unlimited access, who would you most want to work with? What artist? Producer?
A. I can tell you that my dream would be to record a live album with The Roots. The Roots are everything to me. I've always loved Bilal and how free he is. I just love his vibe. I'm a fan of hip-hop and I just recently saw Nas perform with the National Symphony Orchestra. I would love to do something like that. That would be so musically dope.
Q. Do you produce?
A. No (laughs). I dibble. No production skills. Once upon a time I thought about it but as I discovered the process, no. It's a lot. I have OCD with just writing and recording, I can't imagine what I'd be like as a producer. I'd probably never release any music (laughs). It would probably take me 30 years to release something. I'm very hard on myself. I'm a bit of a perfectionist. I'll just stay in my lane. Production? Not for me.
Q. You have a degree in Marketing. How has that helped you as an independent artist?
A. Oh, it's helped me tremendously. That's what I do. We have a small team but as an independent artist, I feel like marketing and promoting yourself is so important. I don't care how many people you have working with you: manager, publicist, lawyer, whatever; you have to know how to promote yourself. Especially in this climate. When people see you going hard for yourself, they'll either join your team, support you or you'll start to be noticed. Social media is huge. Behind the scenes my team is always figuring out how to present who I am as a person and as an artist. Everyday I wake up thinking, what can I do to push Esnavi along?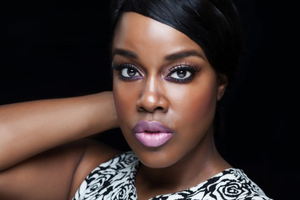 Q. You're from Milwaukee. How'd you land in NYC?
A. I moved to NYC after one visit. I just knew this was where I needed to be. It was around the time I was graduating from college and although I had a degree, the 9 to 5 just wasn't what I wanted for my life. I didn't want to live life wondering what if, you know?  I felt like I'd regret not pursuing music. It was great to know that I had the marketing gig to fall back on, just in case. I had every confidence that if I had to do the corporate thing, I could probably be a CEO somewhere but did I really want that? No. I could just feel it in my soul. That wasn't my vibration. I had actually narrowed it down to Atlanta & NYC. I already had connections in Atlanta. It was familiar. NYC was so foreign to me. I know it sounds cliché-ish but I really felt like if I could make it in NYC, I could really make it anywhere. I reached out to a producer here, came out for a week to work on music and made the decision during that visit. I came back on a one way ticket and that was that.
Q. That took guts. Did you have a lot of support?
A. My family was so supportive. My parents were instrumental in the move. Everyone already knew that I was singing so they were happy that I stepped on out there instead of living in regret. I wouldn't change a thing. I feel like my purpose is being served and I'm so thankful for my family. I'm glad that I made that decision to move.
Q. What was the lag time between you moving and you completing your first project.
A. It was a few years. It wasn't immediate. I did have some label interest at that time..
Q. What does it feel like to have a 1M streams on Spotify?
A. It's huge. Streaming has completely taken over the industry. To reach that milestone, especially as an independent artist, is major. Streams matters. It's a huge benchmark for me.
Q. You're not just an artist, you're a wife and mother too. How do you juggle the different hats that you wear?
A. It is challenging. The minute he was born I knew my life was no longer mine. All the priorities that I had for myself immediately shifted and life was all about him. He comes first. I don't care what it is: a show, an event, a rehearsal, he comes first. Everything is maneuvered around his schedule. That was a huge shift for me. I don't know how I find balance but somehow, we get it done. Early on it was impossible because I was breastfeeding but it's gotten easier as he's gotten older. I basically gave myself a year off and was in fulltime 24/7 mother mode. I just wanted to enjoy him as much I could. The time flew by, I can't believe he's a year-old now. I worked on music quietly and slowly began to try and figure out how to do those things that I needed to do as an artist. It's challenging but you find a way. I have an extremely supportive husband and we have each others back. That's the only way this is gonna work. He's an entertainer and entrepreneur as well. At all times we have our sons best interest at heart. I do a lot before he wakes up and when he goes to sleep. He's a child model now so that's another layer. So now I'm a momager (laughs). I told you that I have OCD but one of the things that having him has taught me is that you can't control everything. He dictates the schedule and I've let a lot of things go.
Q. I feel like falling in love and becoming a parent softens you in a way that nothing else can. It's always interesting to hear artists talk about how those milestones have changed them. What I learned was not to be so rigid (laughter).
A. Let me tell you. That is absolutely it for me. Absolutely. It's almost like a 180 switch. Meeting someone that I felt was worthy of having me for the rest of my life. Our lives. That was huge. I found myself in that place of knowing real love. I mean, I always knew I was deserving but I'd never met anyone who deserved me.
Q. What was it about him that made you say, yeah, this is it?
A. He possessed everything that I was looking for in a man to be my husband. He satisfied me.
Q. Was there an ah-ha moment or was it more of a gradual knowing?
A. Gradual and then an ah-ha moment. I was a very "wall-up" person. I didn't really let anybody in like that. You know, I was the I'm giving you the side-eye the whole time, waiting for the other shoe to drop, person. Elijah was able to break that wall down. As we were dating and going through different things I'm watching how he handles life and I'm thinking, this is husband material. And not only is this husband material, this is father material. And that's huge because I didn't grow up like, I can't wait to fall in love and get married. That wasn't me at all. I was very headstrong, stubborn in a lot of ways, very independent. I was content to do life and date ten people at a time until I found someone who was worthy of getting all of me. I'm a lot. And not in a good way all the time. I'm a lot of energy to deal with for one person. So gradually I was just like, wow, he does exist. He is an amazing man. It's hard to find someone who wants to go through life with you and not play games. It just made sense. We just made sense.
Q. I think it's beautiful the way the two of you love out loud for lack of a better term. It's great to see healthy black love flourishing.
A. We don't flood timelines or anything but we do like to let people know we're still here. We're still doing it. The imagery is so important because people are so used to bad things happening to couples. It's good to see that black love exists, two artists can exist together and raise a family in this industry. We both come from love. Both our parents have been together for a very long time. That is a wonderful foundation for our son.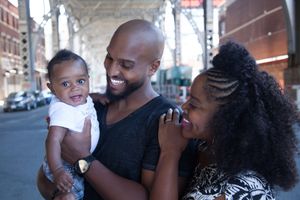 Q. What's next?
A. We are going to take this single to the next level, release the Detour album, increase my fanbase and overall public awareness of Esnavi. I'm currently working on becoming an author. I'm also looking into television, radio and beauty opportunities. I don't know if you know but I was the first African-American face for Alison Raffaele Cosmetics and I also have my very own nail collection called Esnavi Live with Dazzle Dry- VB Cosmetics.
Q. Are you coming to Atlanta?
A. I would love to come to Atlanta, I haven't been in a minute. I have family and a fanbase there. Atlanta is definitely a city where we need to drop in and do a show. I will keep you posted.   
Q. One more thing. Are you Wakanda Forever? Have you seen Black Panther? Any thoughts?
A. Yes. I wore my dashiki. Elijah wore his Africa shirt. We were in the theater with all kinds of smiles and pride. I'm not a movie person so it doesn't matter how good the movie is, I will fall asleep. Well, I didn't fall asleep on Black Panther (laughs). For me, it's probably the best movie that I've seen this decade. The storyline was dope. The cinematography. Where ever Wakanda is , you wanted to go. It was beautifully done. The unity, the beauty of the men and women. We are going to see it again. If anyone reading this hasn't seen it, you need to go see it and be a part of history. I was floored. It was an amazing movie. Five stars... It was so impactful. To see a primarily black cast in all of their natural glory like that. It was just amazing to see.
Q. Any parting words for your fans?
A. To all of my fans, I love and appreciate everyone of you. For anybody reading this interview who might become a fan, I thank you in advance for even allowing that to be a possibility. I really appreciate this opportunity.
And there you have it. #WakandaForever
You can catch Esnavi live March 30th at Rockwood Music Hall. For tickets and more information on Esnavi please go to: http://www.esnavi.com