BELLE MORGAN January 26, 2018
Candid. Witty. Real. Ayanna Gregory, daughter of legendary comedian and human rights activist, Dick Gregory, is all these things and more. Recently the singer, dramatist, educator and activist sat down with PUSH Radio to discuss who she is and how she hopes to be a healing voice. It is no easy feat to straddle artistry and activism but Miss Gregory shared with us the inevitability of it all. Molded from a young age to stand for something, she has embraced the rich legacy of her father and continues to use her gifts to make a difference.
Q. Was there a defining moment when you knew that you would pick up the torch of activism?
A. There was never really a defining moment. Our lives in activism were really not by choice (laughs). We were born into it. I grew up in a family where it was a badge of honor to get arrested and go to jail for what you believed in. That was just the family we were in. We grew up with death threats and phone taps. It was a wild ride. Our house was a pretty bold and exciting place to be at any and all times. He was so ahead of his time and he was figuring it out as he went along. I'm not my dad. I'm not a comedian. I'm not an activist in the way that he was. The music was a beautiful way for me to connect with my father's legacy. Through the music I was able to bring that healing connection in and still be a freedom fighter, educator and activist in that way. The way that I'm continuing his legacy is as a healing agent of change. Since his transition my sense of responsibility has definitely heightened. I realize that we are his seeds and we are the continuum of his legacy. I want him to know that it's been put in good hands.
Q. What was it like growing up with such an outspoken, socially conscious, activist father?
A. We lived a very dichotomous life. There was life with dad on the road and then there was life with mom (and dad) at home. We started out in Chicago in more of a black environment and then we moved to Massachusetts to an all white environment. That was an interesting transition. Dad was a combination of things that the world had never seen. He was a really big household name in the 50s & 60s. And while on his way to becoming even more of a household name, he pretty much jumped ship and said this is not nearly as important to me as the movement. He gave it all away. He used his platform to talk about racism, black life and politics and that was unheard of. Growing up with him there was Hollywood and then there was the movement. We would literally be in a five star hotel surrounded by celebrities one minute and the next minute we would be in Alabama marching. Wondering if we were gonna die. There were times when I didn't want the responsibility. Sometimes as a child my brain was scrambled. I would just feel like, this is a lot of information for a child (laughs). I was so inundated with information that I stopped reading at one point. I thought my brain was gonna explode (laughs). Music was a beautiful thing for me to transition to because it was intuitive and less about information. It was a direct spiritual line for healing vibrations.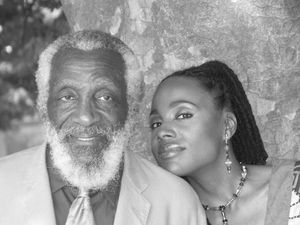 Q. Can you tell us about Daughter of the Struggle?
A. Daughter of the Struggle is a one woman play about my father's life and my life growing up as a child of the Civil Rights Movement. I am really excited about bringing it back to Atlanta because of the historical presence of Dr. King in the city. Several years ago Martin Luther King III saw it and cried because it brought back so many memories. He was reminded that my father had very much been a father figure to him in the physical absence of Dr. King. I didn't really know that. There are lots of references to Dr. King in the play. Dr. King and Medgar Evers were tremendous influences on my fathers transformation. Daughter of the Struggle will return to Atlanta this February at Morehouse College.
Q. How does meditation/prayer connect you to your music?
A. In a major way. As children we did a lot of meditating and praying. When I'm on stage I feel that the ancestors come through me and it becomes meditation. Oftentimes, I get off stage and I feel like I've been to church because that's what church is to me. Sometimes when I'm singing what comes out of my mouth isn't mine. My gift is intended to open up the heart center and I most want to be remembered as a healing voice. The common thread woven between singer, motivational speaker and activist is my healing voice.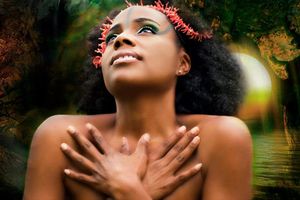 Gregory remains in demand and continues to share her healing voice with the world. Earlier this month, she performed at The King Center's Annual Martin Luther King, Jr. Ecumenical Commemorative Service in Atlanta where speakers included Dr. Bernice A. King, Pastor David Yonggi Cho, Dr. Deborah A. Bartlett, Lieutenant Governor Casey Cagle, and Mayor Keisha Lance Bottoms.
She later performed at High Heels With High Tea, a proud tradition of the Trumpet Awards that combines the elegance of high tea, high heels and high fashion to honor a select group of distinguished women. It was hosted by Rashan Ali of Sister Circle TV.
Her most recent recorded work is a soulful tribute to her mother, Mama This One's For You, released in 2014.
For more information on Ayanna, please go to ayannagregory.com or Ayanna Gregory